News anchor CHOW-AM Welland, Ontario 1964-65; CKPR AM & TV Thunder Bay, Ontario 1965-67; News Director & News anchor CJOB-AM Winnipeg 1967-79; News Director CBWT-TV Winnipeg 1979-85; Assistant News Director 1985-89 then News Director 1989-2000 CFRN-TV Edmonton 1985-2000. President, Winnipeg Press Club 1980s; member Radio and Television News Directors Association (RTNDA) 1960s-2000s; Regional Director & National awards chairman RTNDA. Retired to Langley, B.C. 2000.
The information above is believed to be accurate, and supersedes any information below.
Obituary
Stephen Alex Halinda
August 2, 1935 – October 19, 2019
Steve was born in Humberstone, Ontario in 1935. Pre-deceased by his parents, Geza & Mary Halinda, brothers Louis, Joe and Gazil. Steve is survived by his wife of 55 years, Connie (nee Chicorli), sons Greg (Kitty) and Jim (Lisa) daughter Jennifer and grand children Ash, Jamie and Gwenna. Steve had a rewarding 40 year career in radio and tv broadcasting. He retired in 2000 and moved to Langley BC that same year. In lieu of flowers, donations can be made to the Langley Hospice Society.
Celebration of life
Saturday October 26, 2019
11:00 AM – 1:00 PM
Holiday Inn Express & Suites Langley
8750 204th Street, Langley City, BC, Canada
Published in Vancouver on October 21, 2019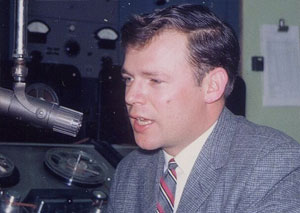 SIGN-OFFS:
Stephen Halinda, 84, on Oct. 19. Halinda started his four decade broadcasting career as a news anchor at CHOW-AM Welland, ON in the early 1960s. He went on to marry colleague Connie Chicorli. From CHOW, Halinda moved on to CKPR Radio and TV in Thunder Bay; then CJOB Winnipeg; and later CBWT-TV Winnipeg, where he served as both an anchor and news director. During his time in Winnipeg, he played a large part in getting cameras and mics into the Manitoba Legislature and served as president of the Winnipeg Press Club. From 1985 and through 2000, Halinda was news director at CFRN-TV Edmonton. He retired to Langley, BC 2001.
Broadcast Dialogue October 24. 2019