Obituary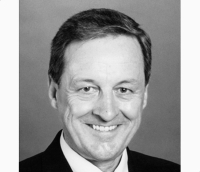 ASHLEY, Herb August 11, 1936 – June 1, 2010 On Tuesday, June 1, 2010, Herb passed away peacefully after a long and courageous battle with Lung Cancer. Born in Banff, Alberta, Herb was the second son born to Sid and Dora Ashley. He was predeceased by his parents and two uncles, Peter and Paul Kaptey. He is survived by his loving wife, Marguerite; step-daughters, Charlotte Dinelle, Laura (Chris) Skrobot, Theresa (Marcel) Esposito, Patricia (Jerry) Esposito, Michelle Zerr; step-grandchildren, Joseph, Courtney, Nicole, Brandon and Aaron; brother, Cliff (Lillian); nephew, Brad (Lisa) and niece, Christine. He will be sadly missed and remembered by his family and friends. In his youth, Herb played hockey and later was a competitive curler and took a keen interest in race car competitions. As a young boy Herb was an Edmonton Journal carrier which led to a position as the Circulation Editor in 1955. Later, he was recruited by CFRN TV and became a TV Producer and Director, with various television networks across Canada and U.S. His thirty years of service in this industry allowed him to produce and direct "live to air" sports events, educational and commercial programs. His last ten years of television production was with ACCESS Network, in educational programming area. Herb, a toastmaster for 28 years was highly revered in the organization, a valued mentor, educator, and an advocate for the Toastmaster's program. As a volunteer, he produced a television program called "Toastmaster Talk" for twelve years which included interviewing many toastmaster dignitaries from all over the world. Herb was a recipient of numerous awards recognizing his contribution to Toastmasters. He will be fondly remembered by members of the Southern Lights Toastmaster Club and many friends in Toastmasters and the television world. The family wishes to thank all the doctors, nurses and staff at the Grey Nuns Palliative Care Unit and the Norwood Palliative Care Unit for their compassionate and outstanding care. In lieu of flowers, donations may be made to these organizations. Funeral Service Monday, June 7 at 11:30 a.m. at Park Memorial Chapel, 9709 – 111 Avenue with Reverend Frank Stempfle. Cremation will follow. To send condolences, visit www.parkmemorial.com Park Memorial Edmonton 780-426-0050 Family Owned Funeral Home, Crematorium, Reception Centre
Bio
Herb's interest in the field of communications began early.
From 1954 to 1956, he was the High School Sports Reporter and a News Reporter for the Edmonton Journal. Then he decided to get into the broadcasting business, and went to CFRN-TV, where he remained until 1963. He started out as Audio Operator, and climbed the ladder to reach the position of Senior Television Director.
After a couple of years touring Europe, Herb went to work in 1965 at CFQC, Saskatoon, as Production Manager, moving in 1968 to CKSO-TV in Sudbury, Ontario, in a similar capacity.
In 1972, he assumed the duties of Producer/Director for Video Pack Ltd. in Toronto, but after a couple of years decided on self-employment, and worked as a freelance Television Producer/Director in that Ontario city. Between 1979 and 1981, Herb was co-owner of Ashley/Rosevear Productions, Inc., in both Toronto and Windsor. He carried on his freelancing in Toronto until 1984, when he moved to Edmonton as Producer/Director for the Access Television Network, where he remained for ten years, retiring in 1995. Make that semi-retiring!
Click to enlarge a picture:
Click above to enlarge a picture.