Lloyd Laughlin was a CBC Edmonton Production Switcher.
Obituary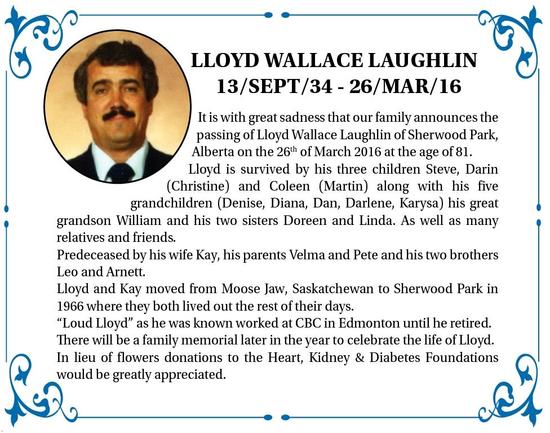 Condolences
Sincere condolences to the Laughlin family
Posted by Jo-Anne Fischer Cassidy (Former CBC colleague) On Wednesday, May 4, 2016
I had the pleasure of working at CBC Edmonton with Lloyd from 1978-1998. He was always friendly, kind, and helpful. It was always nice to see him over the past few years. I hope that he is at peace now. My sincere sympathy to his family and friends.
My buddy Lloyd
Posted by André Roy (co-worker) On Wednesday, May 4, 2016
I am so sorry to hear that Lloyd has passed away. My sincere condolences to the family. Lloyd was my great buddy when I was a floor director and then sportscaster at CBC Edm. What a fun time we had together. I always tried to be louder than Lloyd ..but never managed it.
Rest in peace my friend the Lord needs a good switcher.
Click to enlarge the picture:
Click to enlarge the picture above.